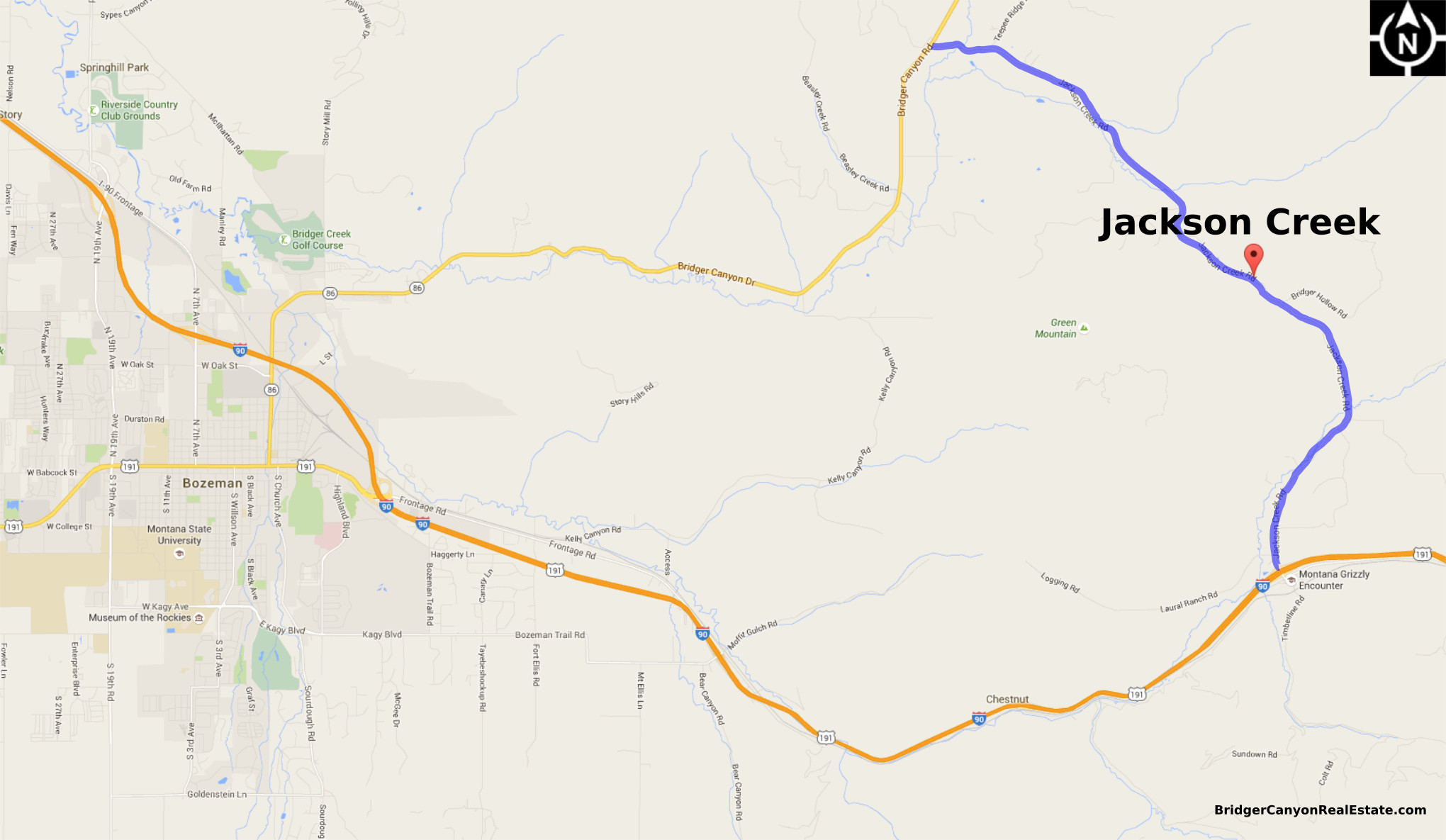 The Jackson Creek area of Bozeman, MT encompasses the real estate area southeast of Bridger Canyon Road and north of Interstate 90. Jackson Creek Road is the primary road through this area and is approximately 15 miles long. Jackson Creek Road intersects at the 10 mile marker of Bridger Canyon Road. From there it proceeds southeast traversing the Bangtail Mountains until intersecting I-90 at the Jackson Creek exit(Exit 319). This area provides wonderful views of Bridger Mountain Range to the west, and Absaroka Mountains to the southeast.
Jackson Creek
Jackson Creek is part of the Bridger Canyon Rural Zoning District. As such, the home density is set at 1 home for every 40 acres minimum. The existence of these protective covenants along with the bordering Gallatin National Forest lead to the area's pristine rural character.
Almost all lots in Bridger Canyon are part of subdivisions, even if they have large acreage. Homes in the Jackson Creek area on lots less than 40 acres in size were platted prior to the Bridger Canyon Rural Zoning District being adopted in 1973. Popular subdivisions in the Jackson Creek area include Tepee Ridge, Aspen Meadows, Jackson Creek Hills, and Bridger Hollow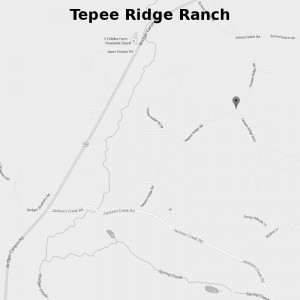 Teepee Ridge(sometimes spelled Tepee Ridge) is one of the premier subdivisions in the Jackson Creek area of Bridger Canyon. The Teepee Ridge HOA(Home Owners Association) has 14 lots. Most of the owners in Teepee Ridge live there full time and roads are well maintained and plowed. It is only 10 miles to historic Downtown Bozeman. Bridger Bowl Ski Area and Bohart Cross Country Ski area are both about 10 minutes away. Lots in the Teepee Ridge Ranch subdivision start at 40 acres, and can be over 60 acres in size. Home prices start at $2 million, and can be several times higher. Learn more about Teepee Ridge Ranch.
Jackson Creek Hills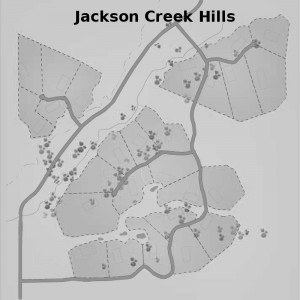 Nestled in the foothills at the southern end of Jackson Creek is the Jackson Creek Hills subdivision. It is an open community design for 26 home sites on lots ranging from 4.61 acres to 20.61 acres. The area has easy year-round access, and also offers quick access to Interstate 90(I-90). The subdivision is adjacent to State and Forest Service access and offers expansive views of the Bridger, Bangtail, and Gallatin Mountain Ranges. Of the original 649.56 acre property, 333.78 acres are dedicated to open space. By limiting site development to designated building envelopes, over 600 acres within the project are dedicated, deed-restricted open spaces that will never be further developed. Six parcels ranging from 8.75 acres to 17.11 acres allow horses. Each property in this subdivision is served by individual wells and on-site septic systems.
Aspen Meadows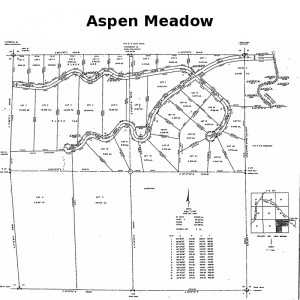 Located near middle of the Jackson Creek area and toward the top of the Bangtail mountains, Aspen Meadows subdivision offers expansive views of the Bridger Mountain Range. Aspen Meadows has 34 lots with many properties being less than 20 acres. Homes in this subdivision range in price from $500,000 to over $2 Million.