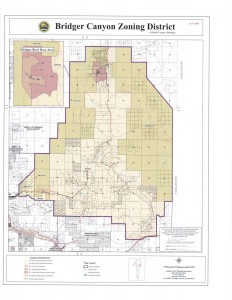 Bridger Canyon Zoning Map
Click to Zoom
LINKS
Bridger Canyon Zoning Regulations
Bridger Canyon Property
Owners Association
In 1971 the Bridger Canyon Zoning District was created as Montana's first zoning district and the Bridger Canyon Zoning Regulation was approved. The residents of Bridger Canyon created the zoning district to guide future physical growth within Bridger Canyon and to protect the natural beauty and agricultural open space character of the area.
The Bridger Canyon Zoning District in Gallatin County, Montana comprises approximately 44,800 acres(70 square miles) and includes the primary roads of Bridger Canyon Road(aka Montana Highway 86), Kelly Canyon Road, and Jackson Creek Road.
Among other restrictions, the zoning placed a limit of one home per 40 acres.
The main reason for this interest in a development plan was a shared concern about the growth of Bridger Bowl and its impact on traffic along Bridger Canyon Road.
In 1979 the Bridger Bowl Base Area Conceptual Plan was prepared (with input from consultants hired by both the County Commission and Bridger Canyon residents) and adopted by the Planning and Zoning Commission. The Bridger Bowl Base Area Conceptual Plan was designed to be an "extension" of the General Plan, and to guide development that may take place in the base area. At that time expansion of Bridger Bowl was not a priority and the need for development in the base area was unclear.
In 1985, the Bridger Bowl Base Area Plan was adopted, updating and replacing the Conceptual Plan. Specifications for a base area PUD were incorporated into the Zoning Regulation at this time. The PUD allocation of one unit per half acre was well below the minimum of one home per 40 acres in other areas of the canyon, and led to a lengthy dispute and eventual settlement.
Throughout the years, and the challenges, the Bridger Canyon zoning district continues to preserve the exquisite beauty and value of Bridger Canyon.
Read more: Bridger Canyon Property Owners Association
[related_posts_by_tax title="Related Content" taxonomies="post_tag" format="thumbnails" image_size="medium"]