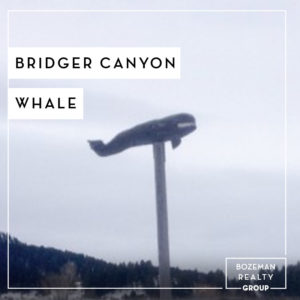 The Bridger Canyon Whale is a well known local landmark in Bridger Canyon. The weathered wood sculpture sits on top of a 20 foot pole located on the east side of Bridger Canyon Road just past the 11 mile marker.
George Rice carved the wooden orca killer whale in 1973. The whale has been stolen twice and burned once, but the owners remain steadfast in returning it to its rightful home in Bridger Canyon.
Rice was inspired to carve the whale after returning from a visit to British Columbia. 'I was struck by the way the Indians (there) handled killer whales,' he said. Rice has given the Bridger Canyon Whale the name 'Guardian Spirit.'
Over the more than two decades that the whale could be seen from Bridger Canyon Road, it gathered mythical status. Folklore had it that skiers on their way to Bridger Bowl should avoid looking at the whale if they wanted to have a good time, Ross said. They were supposed to look and pay their respects on the way back.
Going way back, the tradition among local skiers has been to not look at the whale on the way up to Bridger Bowl, and to salute it on the way back home.