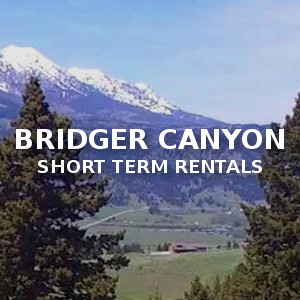 The Bridger Canyon Zoning Advisory Committee has been working on adopting additional Bridger Canyon Zoning Regulations of short-term (vacation) rentals in the Bridger Canyon Zoning District. To date, changes to the zoning have not been finalized although draft language clarifying short term rental rules in Bridger Canyon and limiting them has been submitted.
The establishment of Bridger Canyon Short Term Rental Rules seek to preserve the General Plan's low density and rural character of neighborhoods without unduly impacting reasonable uses. The intent is to ensure that the rural residential community is not turned into tourist areas to the detriment of long-time residents, the natural environment, and the rural character of the area.
It is further the intent to regulate short-term rentals to minimize impacts on property values, environment, wildlife, and overall public safety from fire hazards, traffic generation, and sanitation.
The proposed draft language will give property owners the option to occasionally utilize their properties to generate extra income from short-term rentals as long as all of the above mentioned objectives are met.
Proposed Restrictions to Bridger Canyon Short Term Rentals
Separate Dwelling Units. The primary Dwelling Unit and other Dwelling Units on a parcel shall not be rented such that they are concurrently occupied by unrelated parties for any period. For example, but not as a limitation, an owner occupying a primary Dwelling Unit may not rent an Accessory Dwelling on the same parcel to another party.
Individual rooms. Short Term Rentals of individual rooms in a primary Dwelling Unit or Accessory Dwelling are prohibited except as part of the operation of a Bed & Breakfast Inn or Guest Ranch.
Conditional Use. Short Term Rentals of an entire property shall be a Conditional Use, subject to the conditions set forth in Section 18.3, the following conditions, and such other conditions as the Commission may deem appropriate. A CUP pursuant to this Section is a privilege and not a right. Even if the following conditions are met the
Commission may in its discretion deny a CUP if it believes the granting of the application does not serve the purpose of this Regulation or will not under the circumstances of the particular case be detrimental to health, safety, peace, morals, comfort and general welfare of the District.
We will continue to update this page as new information becomes available.